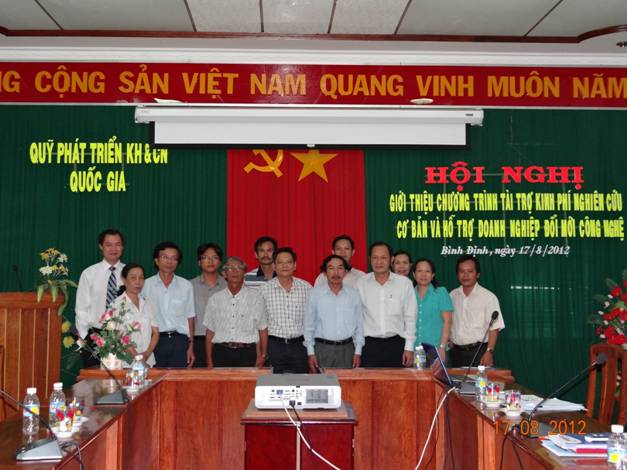 Within the propagation campaign for the funding programs of NAFOSTED, on August 17, 2012, at the Department of Science and Technology of Binh Dinh province, the Foundation's Executive Office coordinated with the Fund for science and technology development of Binh Dinh to hold a conference to present the funding programs for institutes and scientists in Binh Dinh. Attending the conference were scientists from universities, research institutes and representatives of enterprises doing scientific research and technology innovation in the province of Binh Dinh.
At the conference, Mr. Mai The Binh, Deputy Director of the NAFOSTED presented the implementation of the basic research programs in natural sciences and social sciences and humanities, with specific guidance on budget forecast for basic research projects, utilization and settlement of funds.  He also stressed that the deadline to apply for funding in social sciences and humanities would be at the latest at 16h30 on September 14, 2012.
The NAFOSTED also provided information about the loan guarantee program, loan program, other policies and financial mechanisms to encourage and support enterprises in the execution of scientific research projects and technology innovation. Representatives of enterprises discussed the difficulties and obstacles to access to the support programs and suggested solutions to resolve those problems. Their valuable comments would serve as a basis to construct guidelines, complete and amend Circular No. 2341/2000/TTLT/BKHCNMT-BTC on the implementation of Decree of the Government No. 119/1999/ND-CP dated 09/18/1999 on policies and financial mechanisms to encourage businesses to invest in science and technology.
The NAFOSTED expected to organize two more propagation programs in the South until the end of August 2012.