Ta Quang Buu Prize 2017 ceremony
On May 18th 2017, the Ministry of Science and Technology (MOST) organized the 2017 Ta Quang Buu Prize awarding ceremony. This is an important event in the series of activities marking Vietnam Science and Technology Day on May 18th.
Participating at the event were Mr. Vu Duc Dam – Member of the Central Committee of the Communist Party of Vietnam, Deputy Prime Minister; Mr. Chu Ngoc Anh – Minister of MOST, Mr. Phung Xuan Nha – Minister of Education and Training, Mr. Phan Xuan Dzung – Chairman of the National Assembly Science, Technology and Environment Committee, Mr. Huynh Thanh Dat – Director of Ho Chi Minh City National University; Mr. Pham Cong Tac – Vice Minister of Science and Technology, Chairman of the organizing Committee and representatives from relevant agencies and media organizations.
Ta Quang Buu Prize is an award organized by Ministry of Science and Technology and has National Foundation for Science and Technology Development (NAFOSTED) as its permanent body. The prize is held annually to encourage and honor scientists who have outstanding achievements in basic research in fields of natural sciences and technology, contributing to promoting Vietnam's science and technology integration and development.
Launched in 2013, Ta Quang Buu Prize is increasingly affirmed prestige in Vietnam's scientific community, being interested and supported by many scientists. Fields of the Prize are including: Mathematics, Computer Science and Information, Physics, Chemistry, Earth Sciences and the Environment, Life Sciences – Biomedical Sciences, Life Sciences – Biology Agriculture, Engineering.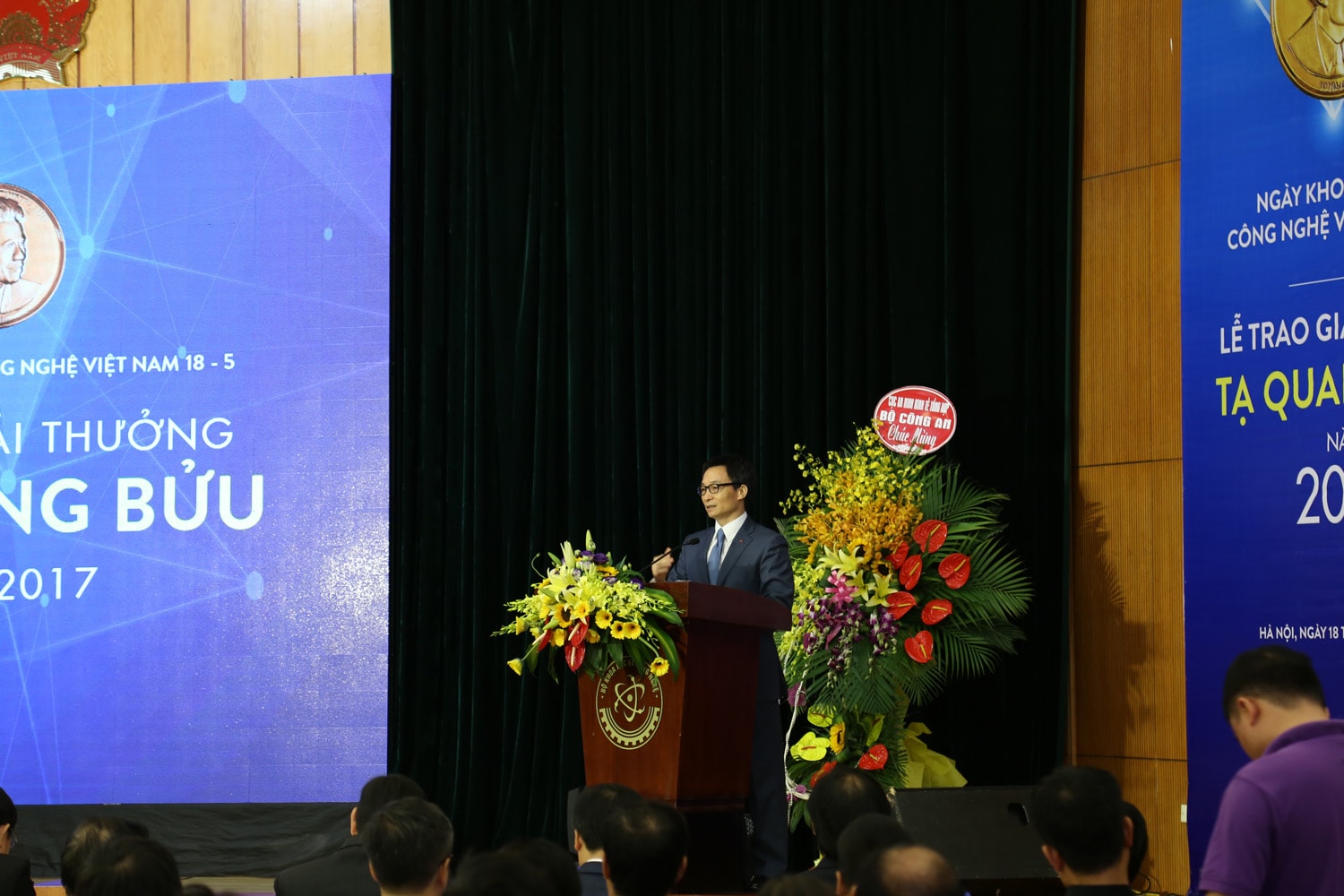 Deputy Prime Minister Vu Duc Dam delivered a speech at 2017 Ta Quang Buu Prize Awarding Ceremony
According to the regulations of the Prize, proposals are evaluated by NAFOSTED Scientific Committees first and then by the Prize Committee. NAFOSTED Scientific Committees are regular scientific committees of NAFOSTED in the field of natural sciences and technology. The Prize Committee considers and selects the winners from the nominating list proposed by NAFOSTED Scientific Committees. In addition to domestic experts, the Prize Committee also consulted opinions of international reviewers on nominations. In the years 2014, 2015 and 2016, Ta Quang Buu Prize was awarded to 07 scientists who are authors of excellent scientific projects in the fields of Mathematics, Physics, Computer Science and Computer Science, Earth Science and Environment and two young scientists in the field of Mathematics and Physics.
In 2017, the Organizing Committee received 30 applications. NAFOSTED Scientific Committees evaluated and nominated 04 applications for evaluation at the Prize Committee. On April 28, 2017, Ta Quang Buu Prize Committee held a formal session to evaluate these 04 nominations. Minister of Science and Technology Chu Ngoc Anh decided to award the Ta Quang Buu Prize in 2017 to two scientists nominated by the Board, including:
Dr Nguyen Sum, associate professor of Quy Nhon University, Mathematician, winner of the "On the Peterson hit problem" published in Advances in Mathematics magazine in 2015 (Vol. 274, 432-489). The result of the work is applied to shorten many cases to be considered when explaining the hit problem in case of specific variable number and briefly describe the structure of the minimum set of births. Specifically, it is applied to interpret the hit problem for polynomial algebra 4 variables. This is the basis for testing the William Singer hypothesis for the fourth algebraic transfer manifold and identifying the modular representations of the linear general group???
Prof. Phan Thanh Son Nam, University of Technology, Vietnam National University. Ho Chi Minh City, Department of Chemistry won the prize for the work of: Propargylamine synthesis via sequential methylation and CH functionalization of N-methylanilines and alkynes under metal-organic-framework-2 (DABCO) catalysis in the Journal of Catalysis 2014 (Vol. 319, 258-264). The content of the work focuses on the study of the use of organic-metal frame materials to catalyze the formation of propargylamine compounds by direct activation of carbon-hydrogen bonding. Compounds containing propargylamine have many important applications in the field of pharmaceutical chemistry, agrochemicals, and functional materials. In particular, during the study, a new metabolism of N-methylaniline was discovered and the work of the research team was carried out entirely in Vietnam, with all the Vietnamese authors.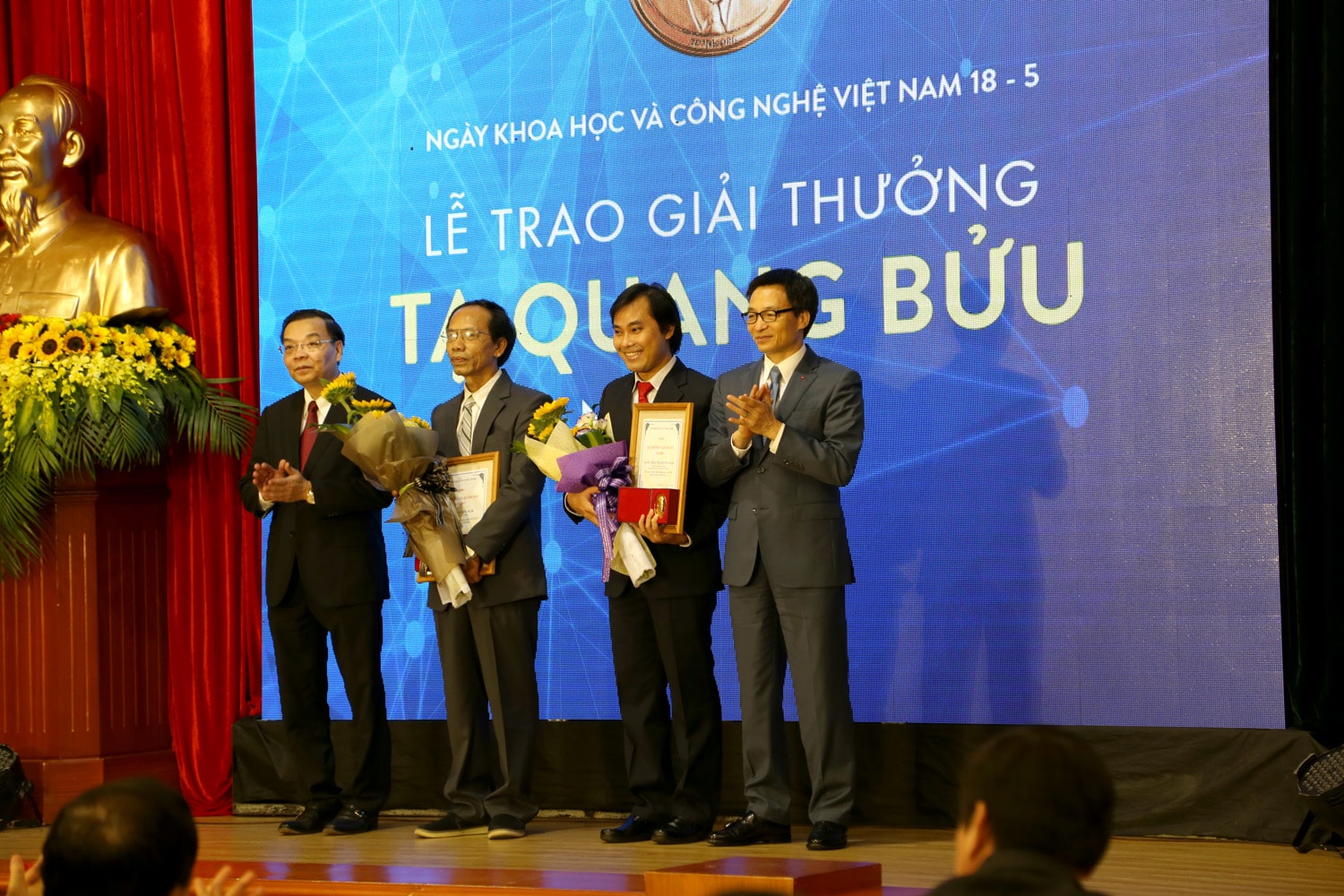 Deputy Prime Minister Vu Duc Dam, Minister of Science and Technology Chu Ngoc Anh with two winners of 2017 Ta Quang Buu Prize: Associate Prof.Dr. Dr Nguyen Sum and Prof. Dr. Phan Thanh Son Nam
At the ceremony, Prof.Dr. Phan Thanh Son Nam thanked colleagues, scientific management organizations and scientific community for their hard work to promote scientific research activities in Vietnam, thereby helping scientists to live fully with the passion of scientific research in their own country. Associate Prof. Dr. Nguyen Sum confirmed to do his best in scientific research to contribute good results, worthy of the honor received today.
Speaking at the ceremony, Deputy PM Vu Duc Dam said that this year, science and technology field had inherited the success from previous years and made great progress. This was demonstrated at the Ta Quang Buu Prize Ceremony which appeared more than young, amateur research scientists, startup community representatives, especially businessmen.
In addition, Deputy PM Vu Duc Dam also stressed the issue of transparency and transparency in the implementation of science and technology tasks funded by the state budget.
Minister of Science and Technology Chu Ngoc Anh congratulated and applauded the two winners with their excellent researches. In his speech at the ceremony, the Minister said that in recent years, the Party and the State have made many important documents confirming science and technology as a driving force and an important component in the socio-economic development of the country. Basic research is considered as an important factor from which we maintain an effective research environment, and more specifically a high quality training environment. These are also vital factors that help us create the scientific force that can contribute to the development of our economy.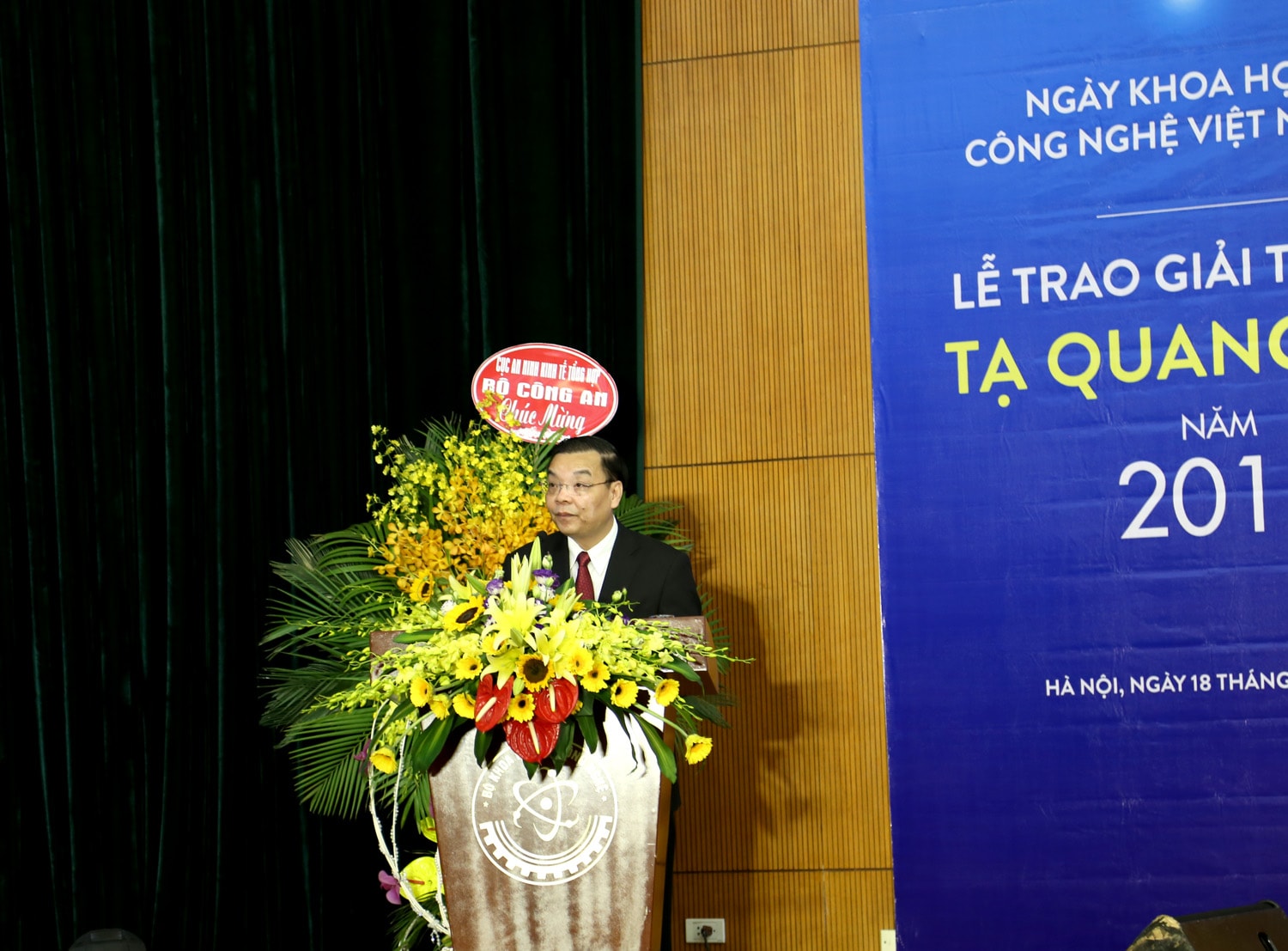 Minister of Science and Technology Chu Ngoc Anh spoke at the 2017 Ta Quang Buu Prize awarding ceremony
The Minister affirmed that the Ministry of Science and Technology will concentrate on solving problems in the management of science and technology activities, creating a real favorable policy environment, removing barriers and unleashing the creative potential of science and technology forces in order to increase the efficiency and impact of science and technology activities on the country's socio-economic development.