Conference introducing the new Scientific committees and kicking off proposal reviews for basic research in natural science & engineering batch 2015
The National Foundation for Science and Technology Development held the kick-starting conference for proposal review on 19th September 2015 at the Ministry of Defense's Guest house. In the conference, NAFOSTED introduced the natural sciences & engineering Committees of the new term. Attendees were Vice Minister-cum- NAFOSTED President Tran Quoc Khanh, natural sciences & technology Committees, NAFOSTED officers and the press of Ministry of Science and Technology (MOST).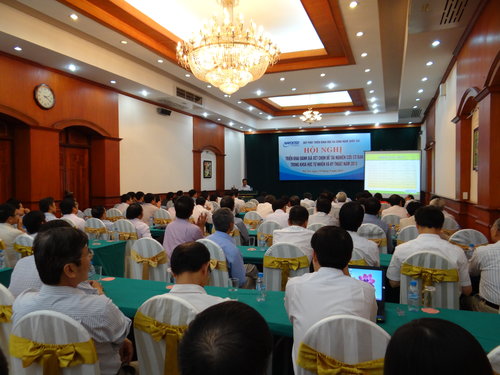 Photo of the conference
In the conference, NAFOSTED Director Do Tien Dzung delivered brief presentations of the NAFOSTED establishments and the member lists of natural sciences & engineering committees of the new term (2015-2017). According to the profiles of the old and the new committee members, Director proved that NAFOSTED Scientific committees consisted of members of excellent expertise and high reputation in their fields. Cooperation among committee members, along with their high responsibility and expertise would continue to foster, and enhance the qualities of researches funded by NAFOSTED in particular and contribute to the benchmark of basic research qualities in Vietnam as a whole.
On behalf of Scientific committees of the new term, Prof. Dr. Nguyen Van Tuyen, also the President of Chemistry Committee affirmed that every member of Scientific committees would prioritize the element of subjectivity in scientific review and other consultation in accordance with the expectations of NAFOSTED Management Committee and science communities. He also expressed appreciation to the significant contributions of NAFOSTED basic research funding programs towards the mission of increasing Vietnamese publications on ISI-listed journals in number and quality, as well as improving research capacities of young scientists and basic researchers.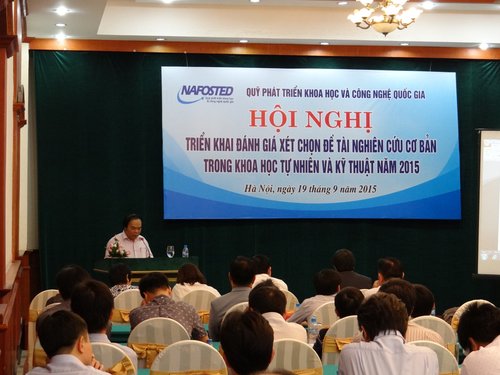 Prof. Dr. Nguyen Van Tuyen represents Scientific committees to deliver speech in the conference
Speaking to Scientific committees, NAFOSTED President Tran Quoc Khanh insisted new-term Committees working at the highest responsibility, assuring objectiveness, honesty and expertise levels, thereafter optimizing the foundation's performance. President asked the Committees to increase the frequency of proposal reviews in order to provide a much more flexible timetable for result reviews and progress reviews for researches funded by NAFOSTED. In the conference, President presented flowers and took photos with all members of the Committees.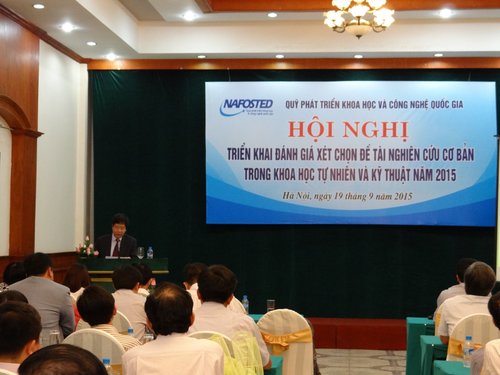 NAFOSTED President Tran Quoc Khanh spoke at the conference.
After the conference, Scientific committees of the new term gathered at the first plenary meetings of reviewing basic research proposals 2015 in natural sciences & technology.
In 2015, NAFOSTED proposal reviews are in consistent with Circular No. 37/2014/TT-BKHCN of Dec 12, 2014 issued by Ministry of Science and Technology governing the execution of basic research in natural sciences funded by NAFOSTED and along with Decision No. 03/QĐ-HĐQLQ of Dec 24, 2008. The number of proposals of 2015 batch is 519 proposals, in which the number of eligible proposals is 516. There are 3 ineligible proposals due to the fact that the leaders of those projects don't have any publications on ISI Journals in the last 5 years. Following devised plan, NAFOSTED will invite critical review experts to review proposals. Field Scientific committees will organize phase-2 meetings before Nov 15, 2015. After collecting results of phase-2 meetings from all Committees, NAFOSTED will announce final list of awardees in November 2015.