Meeting between NAFOSTED and Ministry of Science and Technology of Lao People's Democratic Public (Lao MOST)
In 29th September 2015, at Vietnam MOST's venue, following the framework of Lao MOST's visit to Vietnam, Lao MOST delegates led by Minister Boviengkham Vongdara appointed meeting with National Foundation for Science and Technology Development (NAFOSTED) about sharing experiences in building and operating a national foundation for science and technology development. Mr. Tran Quoc Khanh – Deputy Minister of Vietnam MOST-cum-NAFOSTED President, along with the members of NAFOSTED Management Council, representatives of NAFOSTED Managing body and representatives of Vietnam MOST International Cooperation Department attended the meeting.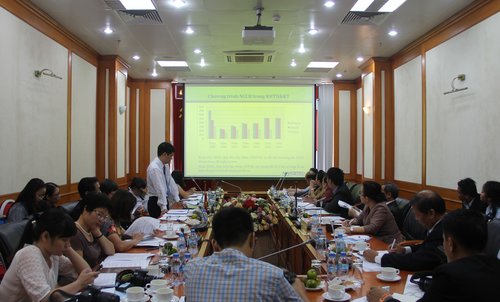 Meeting during discussion at Vietnam MOST venue (Photo by: VanHT)
At the meeting, President Tran Quoc Khanh presented brief introductions of NAFOTED establishment, growth, functions, responsibilities and authorities of Managing council, Internal inspectors, Managing body and Scientific committees. The President introduced NAFOSTED funding programs, support programs, how to undertake activities and its achievements so far. Accordingly, after 7 years, NAFOSTED has conducted various funding programs for basic researches in natural science & technology, social science & humanity, support programs for building the nation's research capability, funding programs for unscheduled & arising projects, loan guarantees and low-interest or interest-free loans for enterprises. The foundation has achieved the target of enhancing research quality and research capability of Vietnamese science communities, steadily creating positive effects on reforming the methods of organizing and managing scientific research activities. According to the results of basic researched funded by NAFOSTED, the research qualities have been improving, reaching the international research quality standard which were proved by the increasing number of research publications in prestigious international journals. Some of NAFOSTED operational mechanisms have been expanded and applied for other funding agencies.
After the first introduction by the Foundation's President, Mr. Do Tien Dzung, Director of operation body, presented how the Foundation organized funding and support programs, as well as document building process legitimating the Foundation's activities. In the second session, both parties came to discussion and exchanged experience in building and developing NAFOSTED. Appreciating the warm welcome of MOST and NAFOSTED, Minister Boviengkham Vongdara, on behalf of crew members, expressed his admiration for NAFOSTED achievements, and acknowledged NAFOSTED experiences to apply into building Lao Foundation for Science and Technology Development.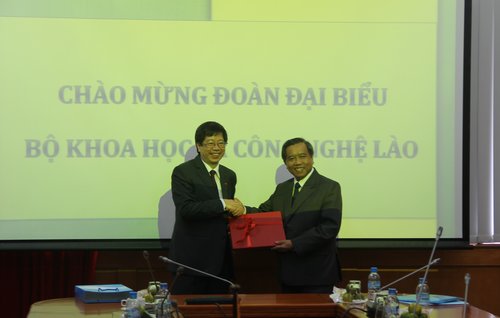 NAFOSTED President Tran Quoc Khanh and Minister of Lao Science and Technology are exchanging diplomatic presents.
At the end of the meeting, both parties agree to hold experience-exchange meetings in the future to foster further bilateral support and together gain better achievements in science and technology.