VINFUTURE PRIZE – A new sci-tech prize for humanity
The VinFuture Prize is a newly established global science and technology prize originating from Vietnam. The Prize is set up to honor breakthrough scientific research and technological innovations that create meaningful change in the everyday lives of millions of people.
The VinFuture Prize comprises a Grand Prize of US$ 3 million, awarded annually for breakthrough research and technological innovations that improve the quality of human life, and create a more equitable and sustainable world for future generations. The Grand Prize would be open to all, regardless of the candidate's nationality, age, gender, social status, or economic background. Three additional Special Prizes of US$ 500,000 each with a focus on promoting diversity, equity, and new fields of study will also be awarded annually to Innovator(s) from Developing Country(ies), Female Innovator(s) and Innovator(s) with Outstanding Achievements in Emerging Fields.
The Prize Council comes from diverse sciences and professional disciplines, cultures, and viewpoints, including:
Chair of the Prize Council Sir Richard Henry Friend, FRS (Cavendish Professor of Physics at the University of Cambridge, 2010 Millennium Technology Prize winner); and members who are:
Padmanabhan Anandan (Wadhwani Institute for Artificial Intelligence CEO);
Jennifer Tour Chayes (University of California Berkeley, Founders of three Microsoft Research Labs);
Pascale Cossart (Pasteur Institute of Paris, the foremost authority on Listeria monocytogenes);
Chí-Văn Đặng (Ludwig Institute for Cancer Research Director);
Xuedong David Huang (Microsoft CTO);
Gérard Albert Mourou (École Polytechnique, 2018 Nobel Prize winner);
Sir Kostya S. Novoselov, FRS (University of Manchester, Tan Chin Tuan Centennial Professor at the National University of Singapore, 2010 Nobel Prize winner);
Michael Eugene Porter (Harvard University, the founder of modern competitive strategy);
Leslie Gabriel Valiant, FRS (Harvard University, 2010 A.M.Turing Award winner);
Hà-Văn Vũ (Percey F. Smith Professor of Mathematics and Data Science at Yale University).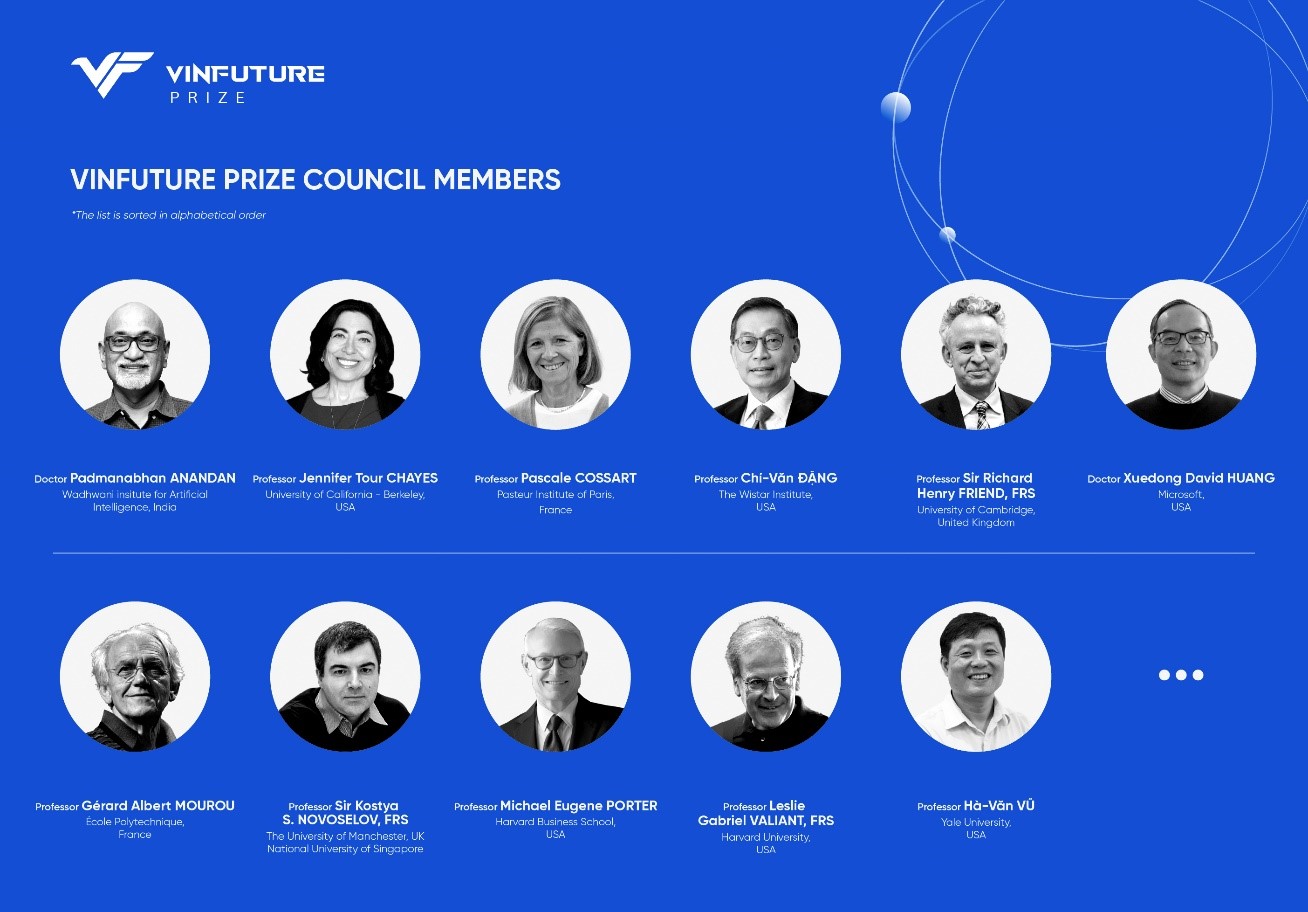 Factors that make VinFuture Prize unique:
the first fund of this stature to be established in the Asia-Pacific region.
open to any discipline of science, engineering, or technology, including multi-disciplinary approaches.
honors work that has or will have the potential to bring solutions that can be applied to the everyday life of ordinary people
align with the 17 United Nation's Sustainable Development Goals aiming to bring positive impacts on a global scale.
We invite you to submit your nominations no later than June 7th, 2021.
For the nomination form and details of the nomination procedure, please visit http://vinfutureprize.org/ or contact: info@vinfutureprize.org
Source: VinFuture Foundation