Conference introduced innovative project targeted low-income people
The Ministry of Planning and Investment's Business Development Department in collaboration with the Ministry of Science and Technology's National Foundation for Science and Technology Development (NAFOSTED), the Ha Noi University of Technology and representatives from Vietcombank, Vietinbank organized conferences nationwide to introduce the "Innovative Project targeted to low-income people" in Ho Chi Minh City and Can Tho City from 27 to 30 September 2013. The project is funded by World Bank (WB) in Vietnam.
The conference held in Ho Chi Minh City with support from Nguyen Tat Thanh University attracted attention from around 100 participants including scientists from institutes, businesses and individuals in the city.
The WB provides a fund of 55 million USD to Vietnamese Government to implement the project in five years from 2013 to 2018. The main purpose of the project is to support institutes, businesses and individuals in completing, receiving, upgrading, expanding scale and commercializing technologies, thus creating products and services served for low-income earners. This is expected to improve their living conditions.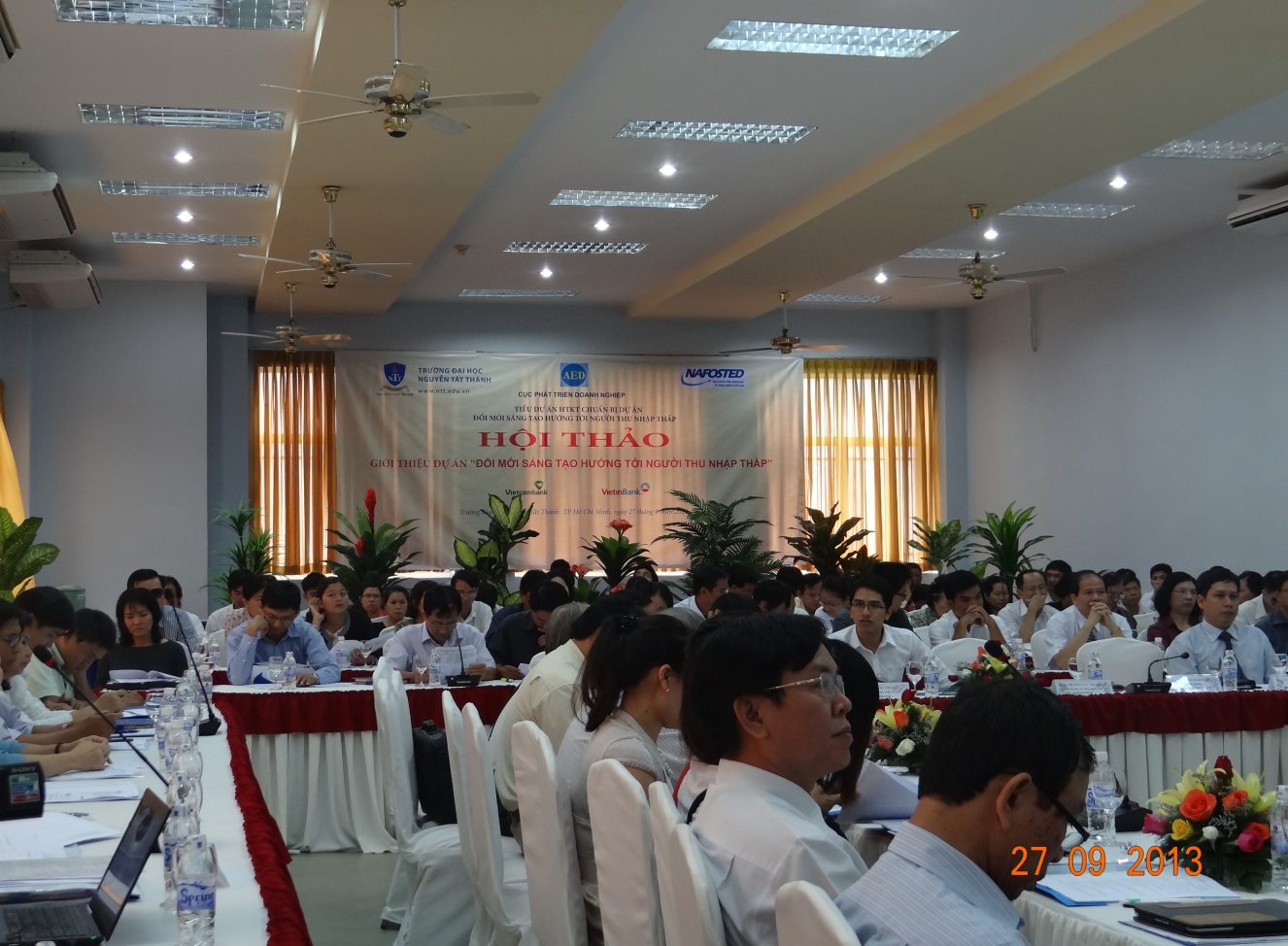 An overview of the conference at Nguyen Tat Thanh University in Ho Chi Minh City
By providing funds and loans, the project expects to enhance Vietnam's capacity in implementing renovation including innovative ability and upgrading technology. This could help institutes, businesses and individuals whose innovative ideas to increase competitiveness. The project gives priority to the fields of traditional medicines, information and telecommunications, agriculture and fisheries. Direct beneficial will be institutes, universities, colleges, businesses and individuals which have ideas to innovate their technologies.
In Can Tho City, the conference was held at Can Tho University drawing attentions of more than 80 delegates from science and technology departments, institutes, businesses and individuals in the city as well as in other neighboring provinces such as An Giang, Kien Giang, Long An, Bac Lieu and Ben Tre.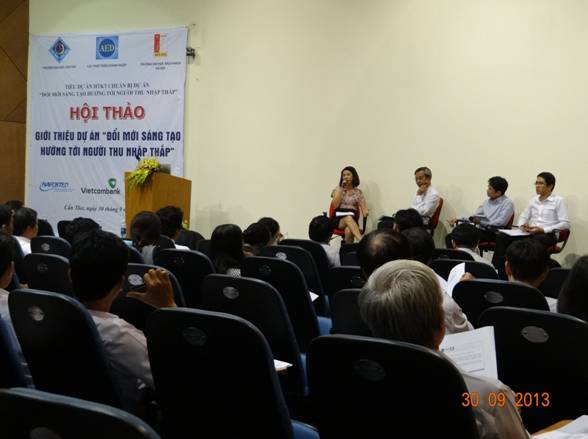 The chairman board exchanges ideas and answer questions relating to the project
Attendants at the conferences put several questions relating to loans mechanism, disbursement progress and application process etc. Representatives from the project's managing board provided detail information about the issues.
Some scientists and businesses in the two cities presented sample sub-projects and science reports on their innovative ideas.
The Business Development Department acting as the project's managing board held conferences to introduce the project in Hanoi, Hai Phong, Bac Ninh, Quang Ninh, Lam Dong and Nha Trang. The delegation is expected to have another conference in Lang Son Province.