Guideline of Online Peer Review
The online peer review system allows peer reviewers to evaluate project proposal through the online management system (OMS).
1. Receive invitation email
Each reviewer will receive an invitation email which includes username (email), password and link to access to project's proposal.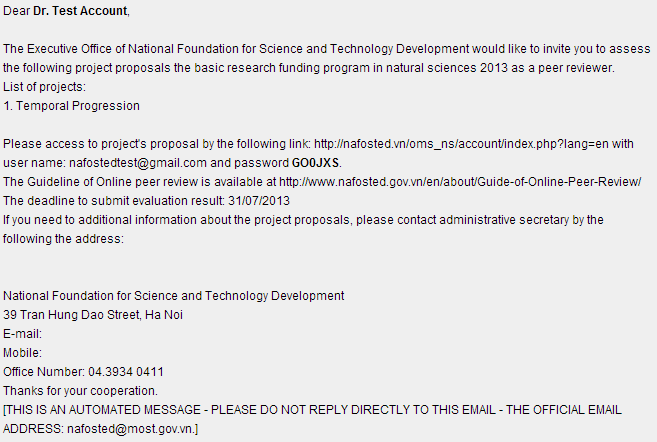 2. Log in to the OMS and confirm
Please log in to the OMS using your email and password, which were given in invitation email. After logging in, you can see the list of project proposal which you are invited to be a peer-reviewer. Please click "Agree" if you want to be a peer-reviewer of corresponding project, or click "Disagree" if not.


3. Evaluate projects

After you confirmed to be a peer-reviewer, the link to detailed information of projects will be activated. To read project proposals, application form, please click to project name. For more detailed information of each project member, please click to his/her name. 
You also can access evaluation form and fill in your comments by clicking "Evaluation" link which is next to the project name.
In the evaluation process, to save information and modify it later, click the button "Save".
After finishing evaluation, click "Send to NAFOSTED" to complete the peer-review process (no modification on the evaluation form can be made after it is sent)
The criteria to evaluate projects are as follow:
Consistency with research direction as prioritized by the Foundation
Innovativeness and scientific significance of the proposed research issue
Objectives, content and research method
Research competency and experience
Expected results and scientific significance
Appropriateness of the budget forecast
Workload
Quality of the  proposal in English