NAFOSTED to collaborate with Swiss partner
The National Foundation for Science and Technology of Vietnam (NAFOSTED) and the Swiss National Science Foundation (SNSF) have just signed a Memorandum of Understanding (MOU) on funding for Vietnamese-Swiss Joint Research Projects (JRPs). The MOU comes into effect from 19 August 2020 until 31 December 2025, and can be extended upon future discussions.
The MOU is resulted from previous collaborations in science and technology between Vietnam and Switzerland, including the Joint Statement on Cooperation between the Ministry of Science and Technology of the Socialist Republic of Vietnam and the State Secretariat for Education, Research and Innovation of the Swiss Confederation signed on 01 October 2019 (by Mr. Chu Ngoc Anh – Vietnamese Minister of Science and Technology and Ms. Martina Hirayama – Swiss State Secretary for Education, Research and Innovation) and the Letter of Intent signed on 11 July 2019 between NAFOSTED and SNSF.
In the framework of the signed MOU, NAFOSTED and SNSF will jointly fund research projects to be conducted by Vietnamese and Swiss scientists with a duration of 03-04 years. For the first call in particular, both sides agree to jointly fund for maximum 10 projects with the maximum conduction time of 03 years (starting from 2021). The call is thematically open and is expected to be launched in October 2020. More details on the call and submission instruction will be soon published on NAFOSTED's website.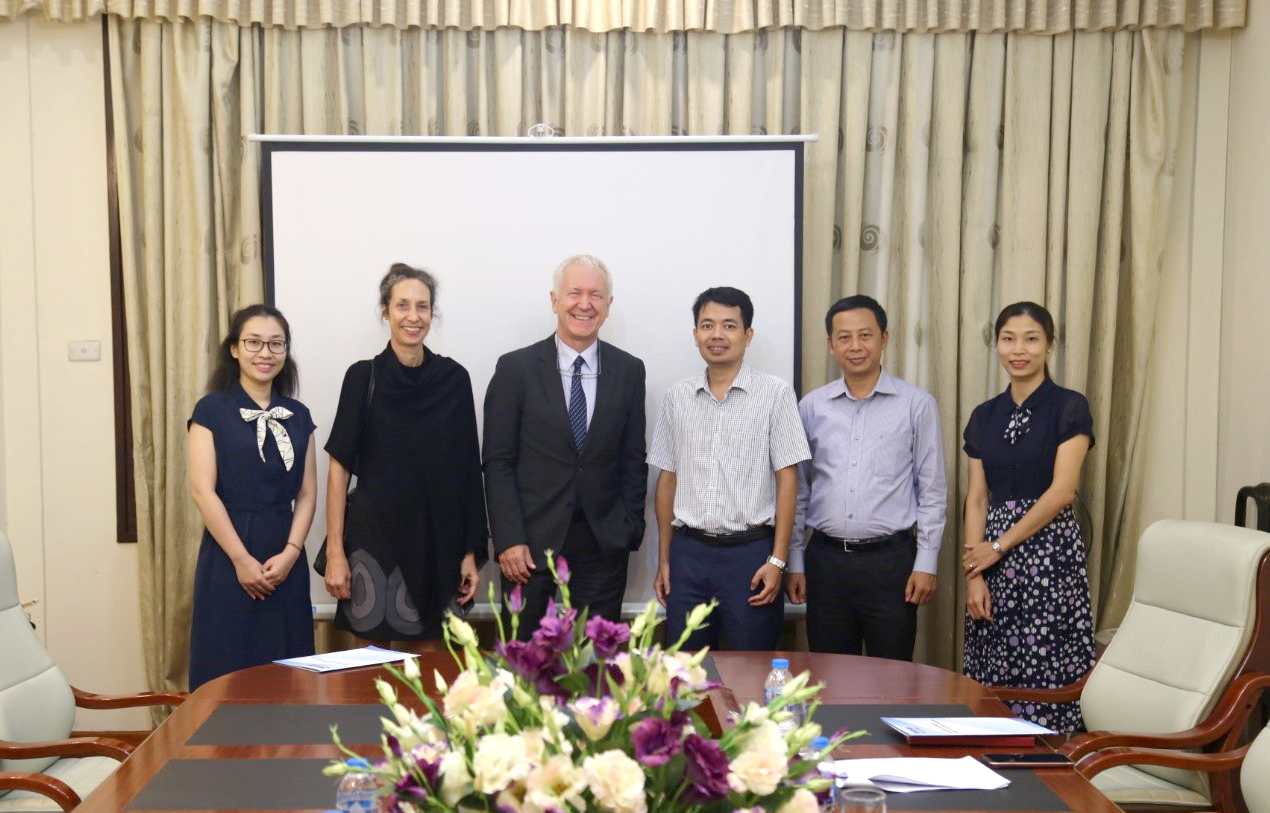 Swiss Ambassador Ivo Sieber and Deputy Head of Mission, Mrs. Nicole Wyrsch at the meeting with NAFOSTED
On this occasion, Ambassador of Switzerland to Vietnam, Mr. Ivo Sieber expressed his welcome and congratulation for NAFOSTED-SNSF collaboration in his meeting at NAFOSTED's office on 23 September 2020. At the meeting, both sides also agreed to jointly promote connection and collaboration between scientists of the two countries in order toenhance, support NAFOSTED-SNSF collaboration program as well as to contribute to the two countries' collaboration in science and technology.
Author: Hoang Thanh Van